High purity alumina is a prized material well known for its excellent hardness, high brightness, electrical insulation, and high corrosion resistance.
Depending on purity levels, alumina can be used for different purposes and fetch different prices – with higher purity commanding much higher values. For example, the process of coating the lithium battery separator with alumina is a sensitive one with requires specific requirements for the purity, particle size, morphology, surface modification, and product stability of the alumina powder. And as a result, requiring a higher cost for the alumina material.
The Dilemma in Grinding Process: Cost or Purity?
When it comes to powder milling, the grinding ball is a key component of the physical grinding process required to obtain high purity ultra-fine powder.
These tiny balls with sizes ranging from 0.1mm to 100mm or more are one of the most core components in the grinding process – playing important roles in the wet-grinding and reduction of powder size processes.
And unsurprisingly, alumina is one of the preferred materials for the choice of grinding ball – as with silicon nitride, zirconia, boron nitride and more. With the final choice of material tends to depend on the end product that needs to be generated.
How so?
It should be noted that no matter how good the wear resistance of the grinding medium ball is, wear and tear cannot be completely avoided. And as a result, the worn part of the grinding balls will mix in with the material being grinded resulting in contamination of end product.
Here is an example:
Even though the popular zirconia ball is known to have high density and high hardness, but when used in the process of grinding alumina powder, it can generate up to 6000ppm abrasion loss – enough to degrade the resultant alumina powder purity by several levels.
That is the reason why, when grinding powder materials such as high-purity alumina, manufacturers will try to choose grinding balls of the same or similar material, apart from other factors like good sphericity, high density, and wear abrasion.
The problem? High wear-resistance alumina balls at present are commonly imported from Japan at sky high costs – starting from up to $308 per kilogram.
The question that most manufacturers have on their mind – must I choose between cost and purity?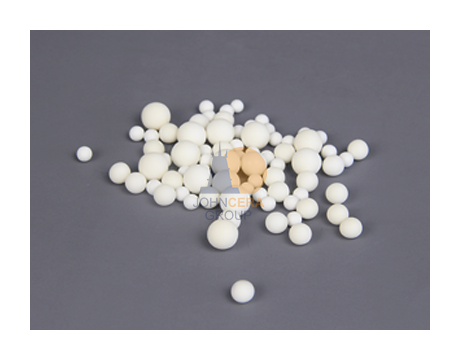 Problem Solved with Johncera's Alumina Grinding Balls
Good news for manufacturers who do not want to choose between the two! With more than 10 years of technology expertise on alumina materials, Johncera has recently developed a series of high purity alumina grinding balls that solves your problems on both fronts.
With the degree of crystallization comparable to its popular Japan imported counterparts and at a fraction of the price, it is the perfect alternative for manufacturers looking to save on costs but not on quality.
High Purity: The alumina content in JohnCera's proprietary alumina ball is higher than the industry standard of 99%, with the content of silica kept to a maximum of 0.2%. The benefit of this high purity? Better chemical stability and increased hardness. Our highly inert alumina grinding balls are the perfect choice for any processes that involve high temperatures or reactive acid-base environments.

Enhanced Strength and Durability: Our 99 alumina balls come with a Mohs' hardness greater than 8.9 – making it one of the hardness materials out there! And thanks to that, its significantly reduces wear and tear, allowing you to prolong the service life of the grinding medium. Longer service life, lesser costs, and downtime for your production runs.

High Specific Gravity: The specific gravity of Johncera's ceramic grinding balls is higher than 3.9g/cm3 – yet another higher than industry benchmark. This benefit? This increased density helps improve the grinding efficiency significantly, reduces grinding time, saves energy consumption and as a result, reduces costs.


Interested to learn more about this product or looking for a quotation on Alumina Grinding Balls?

Please kindly send us an email at
[email protected]
to discuss.